Our Vision
An environment where goodness and honesty are exemplified and promoted, where excellence is encouraged and the potential of each individual is patiently nurtured, ensuring an enriching educational experience which in turn generates competent, virtuous and happy citizens.
Our Mission
We, the members of the Immaculate Conception High School family, inspired by the zeal and love of the early founders of this institution, are called to continue the important ministry of teaching which the Franciscan Sisters from Glasgow began in Kingston in 1858. We are committed to the total education of young ladies of high school age and seek to provide an enriching environment where Christian values are promoted and exemplified and where excellence is encouraged.
We believe that reverence for God, self, others and the environment is essential in today's society and we therefore dedicate our effort towards fostering this value which we hope will in turn generate competent, virtuous and happy citizens who will actively contribute to the general upliftment of people everywhere.
OUR AIMS AND OBJECTIVES

The aims and objectives of the Immaculate Conception High School are:
1. To develop a well integrated person according to Christian values and principles to which, it is hoped a student will commit herself for life.
2. To assist each girl to acquire self-knowledge, self-acceptance, self-identity, self-control and finally self-achievement in the context of a Christian community and the Jamaican society.
3. To equip each girl with the necessary attitude, knowledge and skills to enable her to adapt herself and remain flexible in a rapidly changing society and world.
VALUES STATEMENTS

Reverence for God
We value and promote reverence for God as Creator and Living Force, in and with us at every moment.
Reverence for Self
Recognizing ourselves as God's handiwork we are motivated to be dignified, responsible for our own well-being accepting of ourselves, self-discipline, joyful and good.
Reverence for Others
Beginning from the premise that God created all things good, we recognize the intrinsic value and potential of others and treat them with respect regardless of circumstances. This leads us to be compassionate, hospitable, forgiving and caring.
Reverence for Environment
We recognize that God has given us the wonderful gift of the world and that we are entirely dependent on the environment for every aspect of our existence. We therefore act out of the belief that it is vital for each person to help keep the air clean, the water pure and the land verdant and healthy.
Reverence for Honesty
In believing in the value of truth, we seek to promote purity of thought, word and deed in our everyday lives.
THE SCHOOL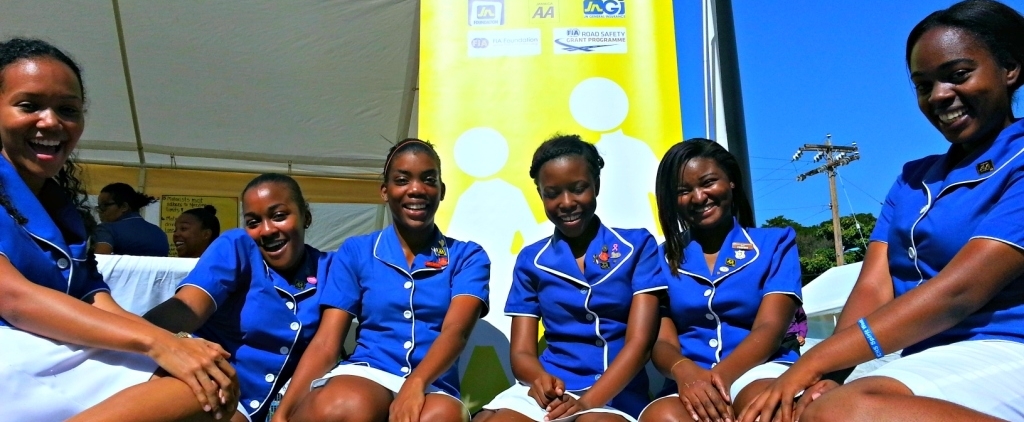 Immaculate Conception High School (ICHS) is a Roman Catholic sponsored public grant-aided school for pupils of all denominations. It is a single sex (girls) grammar school with a core curriculum intended to prepare pupils for three and four years University and Polytechny programmes depending on their exit point. There are two major exit points: Grade 11 with the Caribbean Secondary Examination Certificate (CSEC) at the general proficiency level and Grade 13 with the Caribbean Advanced Proficiency Examination (CAPE) Certificate.
ICHS has a student population of approximately 1,663 ranging in age from 11 to 19. Pupils assigned to the school are drawn from a cohort of almost 80,000 Primary Exit Profile (PEP) candidates. Examinees placed at ICHS are among the top 1000 candidates in the PEP examination.
THE SCHOOL STRUCTURE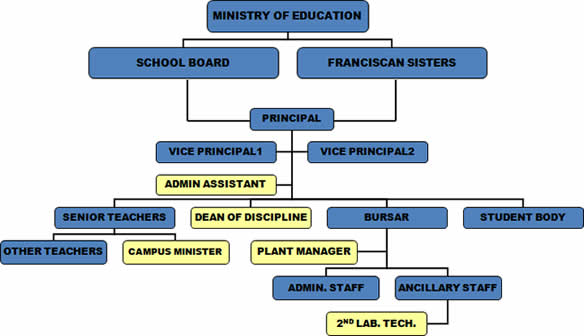 THE SCHOOL CURRICULUM

The School Curriculum
Academic Curriculum: The formal academic curriculum follows the Pattern proven over the years in the Jamaican school system and approved by the Ministry of Education. Sound instruction in; Music; Drama; Physical Education; Food and Nutrition; Textile and Clothing; and lifestyle alternatives in Guidance classes supplement the introduction to the Principal disciplines.
In order to maintain high standards, Immaculate employs criterion testing. Therefore, the school undertakes no ranking of pupils. The passing grade is 60%.
Co-curriculum: This includes activities as well as student organizations. Tourism Action, Karate, P.A.W.S., Interact, Red Cross, Chess just to name a few. Campus Ministry helps the students to form the ethnic of volunteerism. A library, Computer Training Laboratories, Performing Arts Centre offer further enrichment. The latter Music Department, which besides the core curriculum, offers classes in several instruments up to the professional level of the Associated Board of the Royal School of Music. It co-ordinates the activities of Glee Club, Orchestra, Concert Band, and Steel Band. The Drama Department collaborates with the Music Department in some school activities. Facilities for athletics include playing fields, three tennis courts a volleyball/netball court and a swimming pool.
Requirement for Graduation
Graduation status is granted to students exiting eleven grade, who satisfy Academic requirements. Those requirements relate to conduct and general deportment; attitudes toward work; punctuality; and regularity of attendance.
Post-Secondary Programme (Equivalent of A.P / Honours Courses)
The two-year post-secondary programme of studies comprises a compulsory core and electives. The compulsory core subjects are the single unit CAPE subjects of Communication Studies and Caribbean Studies as well as the GCE Advanced Level Paper. Communication Studies is a socio-linguistics programme that also includes modules on oral communication and research skills.
Caribbean Studies is a Social Studies course that examines regional Geography, History, Sociology, and development issues such as small state economy and the impact of slavery on gender relations and health practices. Students choose a minimum of three other advanced level disciplines. They must complete 6 units in at least three other disciplines, but may complete studies in as many as four other discipline since regional three-year university matriculation requires that two disciplines be represented by both unit 1 and unit 2 studies. Each unit is a year long syllabus.