Brief History
Our records indicate that the first meeting of the Alumnae Association of the Immaculate conception High School (ICHS) was held in the Assembly Hall of the Duke Street Convent in March 1932. Miss Marjorie Lennan was elected as our first President.

Miss Lennan served as President until November 1932 when Miss Lisa Narcisse succeeded her, remaining in the office until March 1936. Two ladies who were also Instrumental in guiding the Association in its formative years were alumnae: Sr. Eloine Marie OSF and Sr. M. Daniel OSF.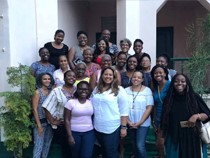 For nearly a century, the ICHSAA has sought to:
• foster the interest of Immaculate Conception High School.
• keep graduates in close and constant contact with each other and with   our Alma Mater.
• assist our Alma Mater and other charitable/educational institutions.
Ask Mackenzie : Frequently Asked Questions
The ICHSAA has a mascot, Mackenzie who is featured in our correspondences from time to time.

In this section, we answer a few of the more common questions that you may have about the ICHSAA.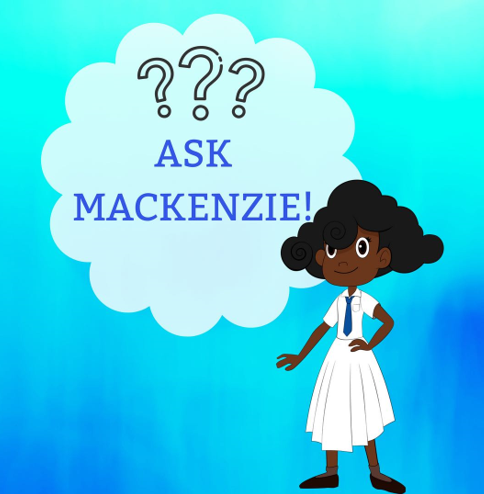 Frequently Asked Questions
1. I am a graduate of ICHS, am I automatically a member of the alumnae association?
Every graduate of ICHS is an alumna. An alumna is automatically eligible for membership in the ICHSAA. However, one only becomes a member if they have completed the membership form, and paid the annual dues of $1000. All paid up members have a vote at our Annual General Meeting. Alumnae who are enrolled in school receive a 50% discount on dues and therefore pay only $1000 per annum.
2. How can I get involved?
Alumnae are invited to join the Association each year at a special function held in honour just before their graduation.
There is a three step process to join the prestigious ICHS Alumnae Association:
1. Complete a membership form. These can be done at the following link: http://tiny.cc/ichsalumformja/ or by collecting a form from the ICHS Convent at the front desk. Physical forms should be returned to the ICHS Convent Front Desk.


2. Pay your yearly dues of $2000 (or $1000 for students).


3. Participate in a minimum of two activities per year, in order to be considered an active member.
3. Do I have to be rich and successful to join?
Quite the contrary! We are looking for all past students with a genuine passion for ICHS. Our active membership ranges from sixth formers to retirees, with each individual being needed. If you have a few hours to spare a month and a passion for your school, that is all we need.
4. Why should I join?
• Firstly, being an alumna gives you the opportunity to continue being a part of the ICHS community.
• This is an opportunity to network with individuals from every walk of life – as we all know, ICHS ladies are everywhere.
• Was there a skill which you wanted to hone – public speaking? social media management? There is no better opportunity, to get practical experience.
• In search of volunteerism opportunities? We are active in our community, both within school and out of school.
• Do you desire a sisterhood? A closer sisterhood cannot be found than this! It is a way of renewing friendships, sharing ideas, fellowship, and giving back to our school and community at large; as well as, to expand your network and connect with like-minded professionals through international, regional, and local events.
5. I am overseas, can I still join?
We have chapters around the world. Visit our Chapters tab for more information.
6. What would I do, as a member of the alumnae association?
We have monthly planning meetings, usually held the second Sunday of each month, except August. Attending these meetings usually provides inspiration as to where your skills are needed. Each month, we typically have at least two events. These include Big Sister visits, bake sales, social outings, creative activities, membership recruitment and visits to Ozanam Home for the Aged. No two months will ever be alike. This is one opportunity to be mentored, while mentoring. Our photo album should also give insight into what we do.
7. How can I get a ICHS Alumnae Association credit card?
The ICHS Alumnae Association partners with a local bank, First Global Bank, to present to you the FGB Affinity Card. With this card, 1% of your expenditure on the credit card goes to our Alma Mater. This is an easy way to give back to your school.
Applications are now open for the FGB Affinity Credit Card. Please click the image below for more information.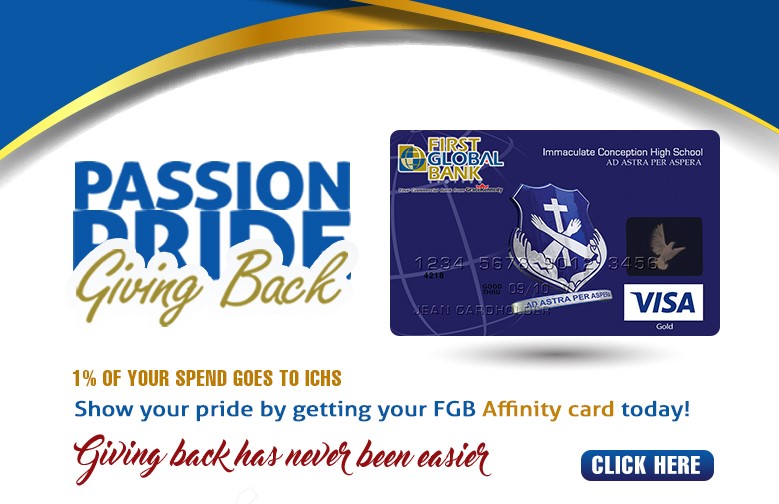 HOW TO JOIN
We are so happy that you have decided to join us!
Once you complete our e-form and then you will be added to our mailing list. From there you will get more details.
After you have signed up, the final step in becoming a member is to pay your yearly dues of $2000, due on the date of the Annual General Meeting of each year. Advanced payments are welcomed and will not be affected by increases in future years. Your dues go toward funding the operating costs of the organization.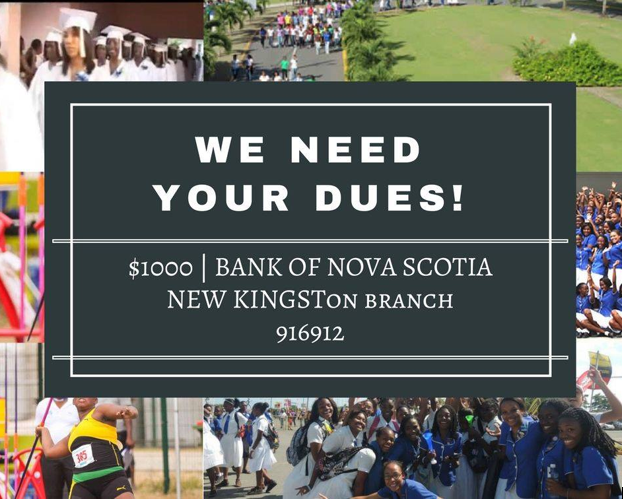 CHAPTERS
The ICHS Alumnae Association (Jamaica) has chapters globally. If you are unable to attend meetings/participate in Jamaica, please feel free to join the nearest chapter to you.
Florida Chapter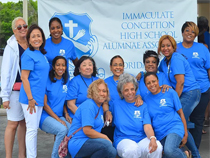 The youngest member of the Alumnae Family is the Miami Chapter which was officially launched on May 25, 1991 at the Christ the King Lutheran Church Hall in Miami.
Although youthful in its formation, this Chapter boasts a membership of over 300 graduates and was let by its first President Mrs. Marva (Robinson) Lasoff. Later on Miss Heather McPherson was elected President and is supported by an executive.
At the Official Launching ceremony the Chapter honoured Sr. Maureen Clare Hall, OSF, and Miss Lisa Narcisse among others for outstanding contribution to the Association and Alma Mater.
The New York Chapter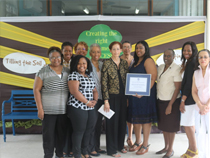 In the summer of 1984 a group of five "old girls" from the Graduating Classes of 1965, 1966 and 1970 met informally at the invitation of Sheila Murray (nee Holtham '64), Maureen Thompson ('65) Ethel Barnes (nee McQueen '66) and Maxine White-Levy ('70). Though small in number, the enthusiasm of that group was enormous and from that small, informal beginning, the New York Chapter grew and was inaugurated in the spring of 1985.
Their current membership consists of a diverse group of alumnae 'old girls', graduating classes from as far back as the 1940' and '50' as well as more recent graduates from the 1980' and 90'. These graduates are mostly career women excelling in fields that span various professions, such as; Banking, Science, Law, Medicine, and Education, while still fulfilling their roles as wives and mothers.
Each year since its inception, the New York Chapter has hosted two fund raising events, the proceeds of which are contributed to the Alumnae Scholarship Fund.
Toronto Chapter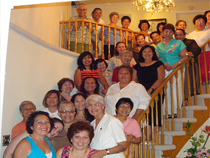 In the Fall of 1977 Sr. Maureen Clare visited Toronto to encourage the forming of a Toronto Chapter of the ICHS Alumnae Association. She held meetings in the homes of Sadi Wong, Marjorie Lyn and Adrienne Aarons. A large number of 'old girls' who had relocated to Toronto were very receptive to the idea and on June 12, 1978 the Toronto chapter of the ICHS Alumnae Association was born, with Sadi Wong as its official Convenor.
The Constitution of the Jamaica Chapter was used as the basis of the new chapter' own constitution and on June 12, 1978 the Toronto Chapter of the ICHS Alumnae Association was registered as a non-profit social organization with the Government of Ontario.
In the first few years, the Chapter held regular fundraising functions, gradually building its assets. The first objective to aid our Alma Mater was met when they donated all the equipment for the newly built science labs, making them the best equipped on the island.
Over the years the Toronto Chapter has continued its gracious support and constant growth, and today boasts a Canadian mailing list of over 400 alumnae.
INTERNATIONAL CHAPTER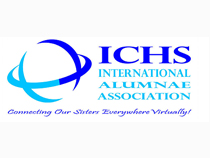 The ICHSAA International Chapter aims to become the centre for virtual communication and information, especially for alumna in those parts of the world that do not have a chapter presently. In order to do that, they have relentlessly supported and educated all regional chapters on virtual technology, while, themselves, holding meetings using videoconferencing technology.
SCHOLARSHIP & AWARDS
The ICHS Alumnae Association offers scholarships to both current students and graduates.
Tertiary Education Scholarships for ICHS Graduates
ICHS Alumnae Scholarships
The ICHS Alumnae Association offers scholarships to ICHS graduates who will be pursuing full-time course of study at the:
  • The University of the West Indies (UWI),
  • The University of Technology (UTECH) or other local tertiary level institutions.
Monica Wright Education Grant
Monica Wright Education Grant (donated by the Wright Sisters, in memory of their mother) is given to a graduate to pursue full-time study in education.
Hall of Fame Scholarships
Bi-annually, the ICHS Alumnae Association hosts a fundraising dinner where we induct outstanding alumnae into our Hall of Fame, whilst raising funds for the Hall of Fame Scholarship. The number of scholarships offered depends on the amount of funds raised. The scholarships listed above can be applied to using the application form for the ICHS Alumnae Scholarship. The deadline for application of these
Scholarships for Current ICHS Students
There are special awards donated by our Alumnae Association at Graduation and/or Prizegiving each year. These include the Principal's Award, Davidica Award and Sr. Anne Memorial Award among others:
1. The Principal's Award - Given each year to the graduate who comes closest to achieving the standard of character expected in the ideal ICHS student.



2. The Davidica Award - Given as financial assistance to cover the cost of books and other expenses incurred during the first year of tertiary studies. The Grade 13 student is recommended to the Awards Committee by Grade 13 teachers. The student should have attended ICHS since Grade Seven and intends to pursue tertiary students within a year. She must display loyalty to school and exemplify Christian spirit, attitude and way of life.



3. The Sr. Anne Memorial Award - Given in memory of a former Vice Principal and the first Head of the Modern Language Department. This is a monetary award presented to the graduate or Grade 13 student of the year who has excelled in Modern Language and who has been recommended by the Modern Language Department. The awardee must also have the intention to pursue further studies in Modern Language.



4. The Herona Thompson Award - Awarded to a student who performs excellently in Geography and Music.



5. The Gordon Sisters Award - More information to be provided soon.

Do you want to contribute to an existing scholarship or create your own scholarship fund?
UPDATES
Have you applied for your ICHS Credit Card from First Global Bank? Each transaction automatically gives 1% to our alma mater!
Click the photo below to contact a Sales Representative from First Global Bank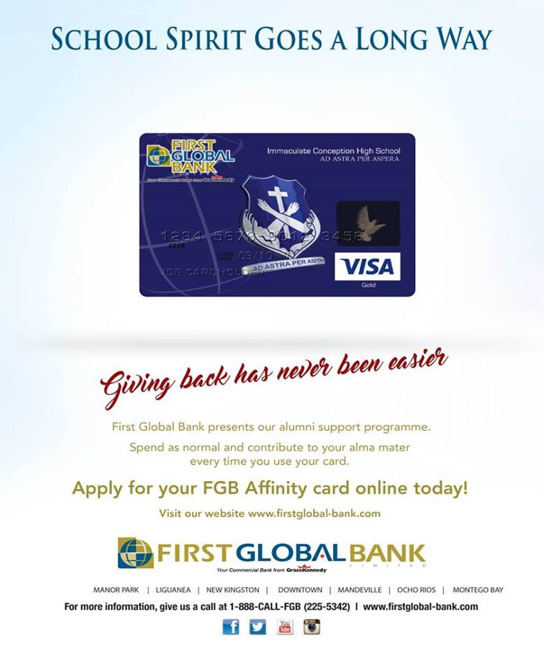 Send Us A Message
The ICHSAA Executive Body wants to hear from you! You can contact us by using the form below or you can send us a message on social media! N.B. Please note that school transfer requests cannot be facilitated through this medium